"It's Beginning to look a lot like Christmas…" and as a solopreneur you might be wondering if you will be able to take time away from your work, let alone enjoy the season. For some of you the holiday season is your busiest time of year. For others, things slow down, and yet you feel guilty or anxious about taking time away. Combine this with daily routines, shopping, family and friend get-togethers and stress becomes plentiful. However, regardless of where you find yourself, it's beneficial to you and your business to take a break.
A healthier you, both physically and mentally, will lead to a healthier business. And while you may know this intellectually, practically speaking it may be difficult for you to do. The following steps will help you take what you know and put the knowledge into action. Sure, it will take discipline to prepare for a break but in the end you will reap great benefits and so will your business. Here are the two steps.

Step 1: Rethink and Plan for a Break
First, before you plan for the break you might have to change your mindset about taking time away. A simple mind-shift is powerful. Tell yourself this is a tool that you will use to better yourself and your business.
Second, unless you plan to take some time away, it likely won't happen. Now clearly, if your business is associated with this festive time of year you won't take a break at this time. More than likely this was a consideration when starting your business. However, this does not mean that you cannot plan for a break after the festivities come to an end. Who's to say you can't have Christmas in July.
Regardless of what type of business you run the first thing to do is set a date and stick to it. This is non-negotiable. You may take a few days, or a week. You may break up your time away into two smaller amounts of time. Regardless of what you plan stick to it.
Once you have the date, plan for some activities. Remember to keep it simple as there is no need to overschedule. Think about what you might like to do, friends and family you might like to see, and books or articles you may wish to read that are not related to work. This way you will not be tempted to be glued to your phone or computer.
A third thing to plan is how connected you want/need to be on your break and set a boundary. Not all solopreneurs have the luxury of disconnecting 100%, at least initially. For example, perhaps you will connect/respond to emails once or twice a day, first thing in the morning and/or early evening. Having determined this be sure to communicate your boundaries with customers (see below). Now that you have a plan it is time to prepare.
Step 2: Prepare For Your Break
Task 1: Inform Your Customers/Clients
Not everyone celebrates during this time of the year. So while some may be expecting your business to take a break, others will not. Regardless, it is important to head off any potential problems by making your customers aware of your holiday hours and/or plans. By giving them a heads up they will feel valued.
There are numerous things you can do to inform customers of your holiday schedule:
First, you can email them with dates and appropriate information. It is wise to do this a few weeks in advance.
Second, you can set up automatic email and voicemail with your "Away Message". Be sure to thank them for their call or email, and let them know when you will return. This will ease their mind, lower their stress and set an expectation.
Finally, have a contingency plan in place. Be sure to have an emergency contact method and/or consider outsourcing if you will be completely off the grid. Perhaps consider another family member as your go-to contact.
Task 2: Automate as Much as Possible
Advances in technology have made taking a break simpler. As much as possible place clear systems in the background to do automated tasks. As mentioned above be sure to leave an auto-responder on your email and voicemail as well as schedule your social media in advance through Facebook or Buffer, a simple social media tool. Furthermore, look for every means possible to automate your business from your mobile device.
Mobile apps such as Pro-ledger Online allow you to do your bookkeeping anywhere. You can also use google docs and sheets to have information at your fingertips. The more automated systems and processes you have in place the more you will enjoy your holiday.
Task 3: Get Ahead on Administrative Tasks
If you happen to be a business who slows down at this time of year look for ways to wrap up the year and prepare for the year ahead. Before taking your break examine the following areas:
A. Tax Preparation: Be sure to organize data and records of revenue and expenses. Make sure everything has been documented. Give your accountant a call, and make sure everything is in order. Earlier this year I wrote an article about this very topic. Perhaps you would like to check it out.
B. Website/Media Audit: Take some time to review your website and social networking channels. Examine whether the content is still relevant and up to date. Ask yourself if customers can easily find what they are looking for? Perhaps explore other websites to see what they are doing and incorporate some new ideas into your existing social media. Take some time to explore what is happening in your industry. It never hurts to look for new opportunities.
C. Reflect: When calm and relaxed, reflection can be a very productive activity. You may wish to consider some of the following areas:
Successes and your Failures: Ask yourself what you have learned this past year, what you can improve and what could have been avoided.
Goals: Set some goals both professionally and personally. Be sure they are Specific, Measurable, Attainable, Realistic and Time-based (SMART).
Marketing and Budget: Review your marketing strategy and plan as well as your budget. Perhaps consider raising your rates.
Procedures: Ask yourself if there are areas you might want to outsource, or automate.
Task 4: Connect with Clients/Customers
Although you have informed your customers of your holiday schedule, it is also important to connect with them on a more personal level. Be sure to take time to express appreciation for their business this past year. Perhaps send them a holiday card, calendar or email a greeting. For those with a wider budget, you may wish to consider giving a token of your appreciation.
When considering how you will connect with your customers keep your brand in mind. Consider how your brand is going to add value and serve your customer, as well as set you apart.
Be sure to put thought into whatever you decide upon, and that names and addresses are correct. This season is the perfect time to build relationship and to reconnect with customers.
Task 5: Breathe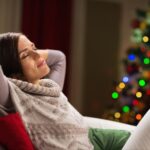 The purpose of preparing for a break is so that you can relax and rejuvenate. This means that as you prepare remain calm and flexible.
A. Where Customers are Concerned
First, even though you have informed them and made them aware of your holiday break, be prepared for an interruption. Some may call you at an inopportune time. Be sure to breathe, deal with them promptly and then return to your festivities.
Secondly, do not feel pressured to spend money you do not have when connecting with customers. Your expression of appreciation does not have to put you out of pocket. Knowing that your revenue might slow down at this time look for channels that you use on a regular basis to express appreciation. For example I use Canva on a regular basis (already paid for as part of my job), and I will use this tool to create a meaningful greeting for my customers.
B. Where You are Concerned
Be sure to take time where you can and disconnect from your phone and email. Take advantage of having informed your customers of your schedule, and be discipled to stick to the plan you made. Doing this can be very liberating.
Finally, reward yourself. Being a solopreneur is not an easy path. So whether you have had an incredibly successful year or are just breaking even, recognize your hard work in some way. You may wish to purchase a new item for the office, or simply treat yourself to your favorite meal or a quiet evening with the family or friend. Whatever you do be sure it is meaningful for you.
At the end of the day, you and your business will not benefit if you are burnt out, besides you deserve some R&R. So, whether you enjoy a festive break now, or a little later, be sure to rethink, plan and prepare for a holiday. You and your business will thank you. Merry Christmas and All the Best in the New Year.
_________________________________________________________________________________________________________________
Pro Ledger Online offers a cloud-based bookkeeping solution for small business professionals. Click here for a 30-day free trial. – www.pro-ledger.com "Bookkeeping Made Simple